Let's Talk Training
Knowledgeable CrossFit Trainers Are The Difference
I was born and raised in the Midwest, Indiana to be specific, like most young adults do, I decided I needed a change of scenery so in 2002 I picked up and moved out to AZ. I made the decision to start doing CrossFit in 2011 after a back injury forced me to seek chiropractic treatment in order to deal with some ongoing and pretty painful sciatic pain.
Soon after I started going to the chiropractor I saw a flyer for a local CrossFit gym and decided to give it a try; I knew that getting stronger, namely in my core, I would hopefully never have as much pain as I did that day walking into the chiropractor.
At the time I didn't have very good gym habits. I worked out at a typical bro type gym with no solid goal in sight. Needless to say, I wasn't seeing much in the way of progress or results. After starting CrossFit I immediately saw a drop in weight and added muscle mass and the best, most convenient part was all I had to do was just show up and put in the work, the rest was pretty much taken care of for me. The more involved I became in the CrossFit community, the more addicting it became. I really enjoyed how the workouts challenged me, and how the community was always there to push me, encourage me and hold me accountable.
Crossfit as a whole has had a huge impact on my life as it has not only affected the way I workout, but it has also taught me better ways to manage my diet, my stress level and my sleeping habits just to name a few.  After 2 years of CrossFit training, I decided that I wanted to give back and help others find the benefits of Crossfit and just how impactful it could be. After getting certified for my Level 1, I went on to get certified in CrossFit Football as well in hopes to learn more about training sports specific athletes. I put that cert to work in right away in training my younger cousin Dylan who at the time was just starting high school football.
Soon after working with Dylan, I bought a hand full of equipment and twice a week I would train him and a few friends out of his home garage. One thing led to another and before I knew it I was running garage gym workouts three times a week for his friends, their parents, and some additional family members. After a year and a half of working out of his garage, sweating from the summer heat and freezing in the winter I decided to take the next step and open CrossFit North Phoenix where I could build my own community and the rest is history!
Best,
Corey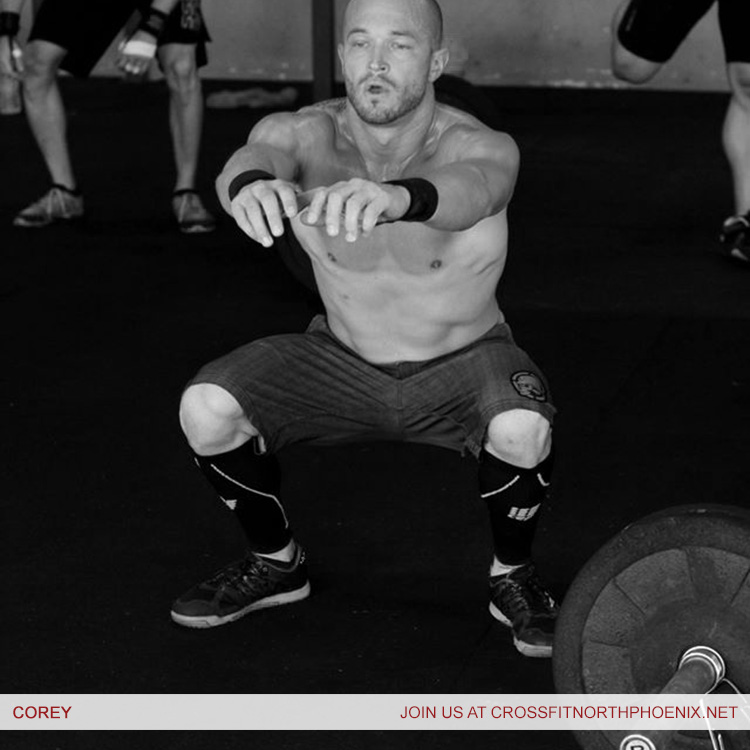 Certifications/Qualifications
CrossFit Level 1 Trainer, CrossFit Football Trainer
We are proud to support the #HardWodder Ethos here at CrossFit North Phoenix
We value community, consistency, and contribution above all else. Let us know what your goals are and we will do our best to help you attain them. Come in with the understanding that your best days in the box happen first in your head. Once you conquer your own fear and doubt, the rest is easy.
If you'd like to know more or ask a specific question, don't be shy… just click here and send us a message!