Let's Talk Training
Knowledgeable CrossFit Trainers Are The Difference
I was born and raised in the heart of the Rocky Mountains, a small town that was every bit as beautiful as Jon Denver had described it and unless there was 6 feet of snow on the ground (which didn't even stop me sometimes), I was guaranteed to be outside taking advantage of its beauty. Almost the entirety of my youth was spent outside be it camping, hunting, fishing, building forts, hiking, snowboarding or playing sports. My love affair with the latter started at a very young age and whether it was watching them or playing in the, being involved with sports played a big role in shaping who I am today. I played soccer, I ran track, I tried my hand at basketball and I really loved softball. There was/is something special about being part of a team and working towards a larger goal, I've learned a lot of valuable lessons through some really special coaches and a countless number of wonderful teammates over the years. I digress; I stayed a multi-sport athlete until my freshman year of college when I was given a scholarship to play softball I went on to play at the collegiate level for a couple of years before hanging my cleats up for good.
A lot of collegiate athletes face a harsh reality when their college careers are over in that their sport's careers are over as well, I was no exception to this, I mean what was next for me? Slow pitch softball leagues and lonely globo gym time? I tried the globo gym thing, I think I had a membership to LA Fitness for 2 or 3 years that I used maybe 20 times and I know how many of you can relate to that. I didn't know what I was doing and I wasn't having much fun or success so I just didn't even bother to go. That's when a friend introduced me to Crossfit. It took some convincing but once I started I was hooked. It brought me back to my days of playing on a team, working hard together, and supporting one another. On top of that I was having fun again and as an added bonus, I was in the best shape of my life.
As soon as I saw the overwhelming amount of benefits that come alone with doing Crossfit, I made a decision to pursue a career in the world of fitness. Since making that choice, I have completed the Bachelor of Science degree program at ASU and received my degree in Health and Wellness as well as becoming a certified Crossfit trainer. Remember those special coaches I talked about learning stuff from? It's my goal to be one of those coaches and to not only help people with their goals inside the gym but with their lives outside of it as well!
Best,
Mary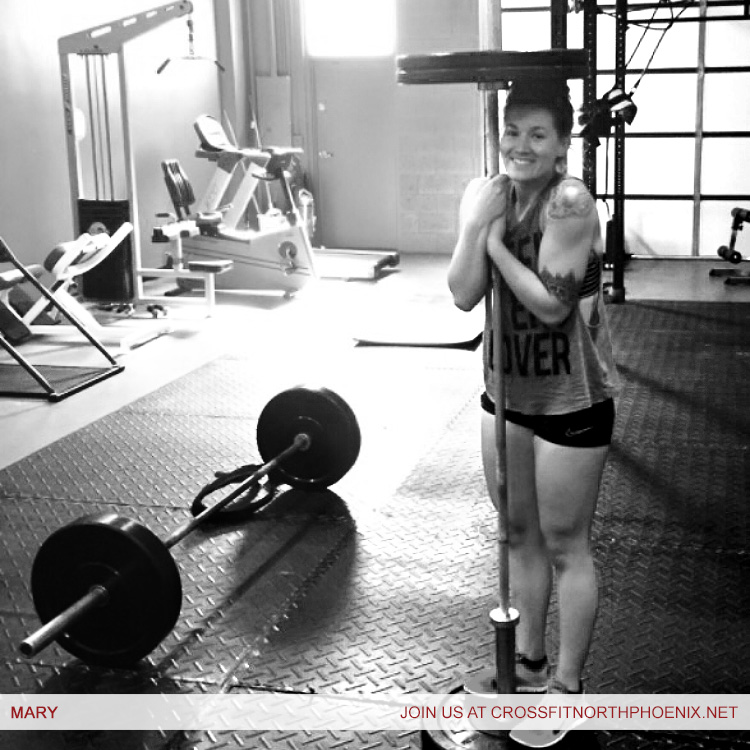 Certifications/Qualifications
Bachelor of Science in Health and Wellness, Crossfit Level 1 Trainer
We are proud to support the #HardWodder Ethos here at CrossFit North Phoenix
We value community, consistency, and contribution above all else. Let us know what your goals are and we will do our best to help you attain them. Come in with the understanding that your best days in the box happen first in your head. Once you conquer your own fear and doubt, the rest is easy.
If you'd like to know more or ask a specific question, don't be shy… just click here and send us a message!