Let's Talk Training
Knowledgeable CrossFit Trainers Are The Difference
Having gone to a globo gym for over 10+ years and doing bodybuilding workouts I was getting bored of the same routine. In 2012 my sister introduced me to Crossfit and since that time, I have immersed myself in all things Crossfit.
I remember my first Crossfit workout and how it humbled me so much. I was so confused! I thought I was fit but why did I have the Fran coughs after doing 500m row and air squats for 3 rounds? And, did I really get beat by a woman who was 15 years older than me?
I was hooked after that. I got my Crossfit Level 1 certificate in 2014 and started coaching shortly after that. Thanks to Crossfit, I found Olympic Weightlifting.
I have been weightlifting now for almost a year and have done two competitions. I got first place in both competitions (40-44 age group/105kg weight class) which qualified me to go to Masters Nationals. My next goal is to medal at Nationals. So when I am not working out or coaching at Crossfit North Phoenix you can find me spending time with my wife and twins.
Favorite wod: Grace and recently Fran Favorite Olympic Lift: Snatch
Favorite strength movement: Squat
Best,
Ron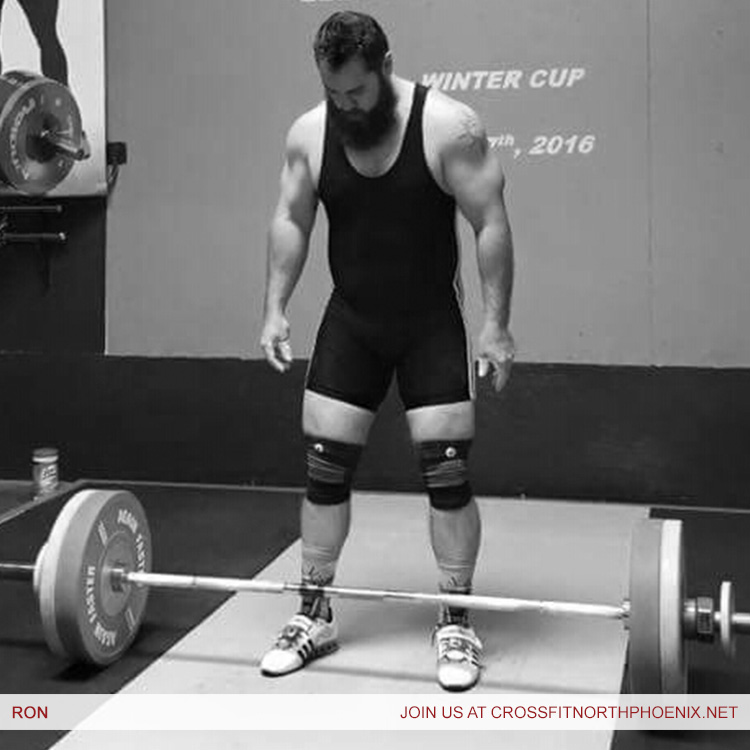 Certifications/Qualifications
CrossFit Level 1 Trainer, CrossFit Football Trainer, USAW L1 Sports Performance Coach, USAW L2 Advanced Sports Performance Coach
We are proud to support the #HardWodder Ethos here at CrossFit North Phoenix
We value community, consistency, and contribution above all else. Let us know what your goals are and we will do our best to help you attain them. Come in with the understanding that your best days in the box happen first in your head. Once you conquer your own fear and doubt, the rest is easy.
If you'd like to know more or ask a specific question, don't be shy… just click here and send us a message!